I want girls to get the chance to be thought of first, because it doesn't happen at many footy clubs.
- Annabel Brebner
Annabel Brebner, chair of the MCC Football Sporting Section, has high aims for her stand-alone women's club as they enter their second season competing in the Victorian Amateur Football Association (VAFA).

Annabel's football journey is one of pioneering, perseverance and quiet achievement, all driven by her determination to enable women like her daughter to continue - or begin - their football journeys in a comfortable environment.

With the help and interest of the Melbourne Cricket Club Committee, which wants to develop winter sports down at their connecting school in Beaumaris, Brebner was able to spearhead the committee, recruit women and kick-start the independently run Women's Football Club.

But her connection with the MCC began many years prior to her pioneering work for women's football, with football and family at the heart of her childhood.

"My Dad was the President of the South Australian Football League, so football was always a really big part of our lives," she said.

"I actually came over to Melbourne to pursue my interest in diving and to go to university. But then I married a Victorian, so I was here for 13 years. That's when I put my name down on the waiting list at the MCC. After that, I had three kids. They all had their names put down on the MCC Waiting List between two days and seven days after being born. They're all members now."

This MCC tradition - sharing a passion for AFL football and experiencing the many nooks and crannies that the MCC Members area holds with her family - is something Annabel has cherished since she settled in Melbourne many years ago.

"Going to the `G has always been a really big part of my husband's family and now a part of ours," she said.

Annabel wanted her children to understand the value of sport, specifically Australian Football, as it had not only given Annabel some enthralling battles albeit off the field, but it had also taught her the importance and worth of mateship.

Annabel's daughter took up football at high school, but unlike her son, she did not have an old scholars' club to take her on board when she graduated.

"There wasn't the same infrastructure to just play footy for girls," she began. "It was so disappointing. One of my daughters went on and kept playing footy with another VAFA team, but it annoyed me that she had to go and play for a club associated with an all boys' school. The club tried hard to look after women, but the girls still got shoved onto the bad oval, out the back at the times nobody else wanted to play."

But this wasn't fair in Annabel's eyes. She invested her time into bringing the MCC Football Club to life.

This team became one of the only all-women's stand-alone clubs competing in the VAFA.

"When the MCC decided they were going to redevelop the sporting fields at the school down in Beaumaris, they decided to look at having football as a winter sport," she said.

In ground-breaking fashion, Annabel was appointed chair of the club, starting with minimal resources and no ground for the beginning months of training and games in 2018.

Annabel and the committee worked to promote the club, pushing to field their first team in 2018.

Her inspiration to lead her club in a hard-working manner, stemmed from women who continue to spearhead some of the most successful AFL teams in the country.

"I look at Peggy (O'Neal, President of Richmond Football Club) and see how inspirational she has been in building strong values in the club," Annabel said. "I am really impressed with how quietly determined (Peggy) is to build a fantastic club. It wasn't about shouting about it, it was about doing it."

Annabel's main objective was to mirror that silent service, that role in the background.

"I wanted at our little suburban, community club to make sure that we took the good stuff (from AFL/AFLW clubs), learn from it and try to replicate that at a community level," she explained.

"We don't want it to be something that is just a fluke. We want to play good footy. But the absolute objective is that we are showcasing what you can achieve through sport. In particular, what women can achieve through sport."

But Annabel and her committee also wanted to attest that it's not just the females, who are invited to be part of something bigger.

"We set the club up to be like our constitution - not gender specific," she observed. "But we wanted to build the club based on women's teams first. We think it's really important that the community see that the women get the first go."

Her legacy? Annabel wants it all to 'just keep going'. She also wants the MCC women to feel just as at home as the men who take to the mighty MCG turf each weekend.

"I want girls to get the chance to be thought of first, because it doesn't happen at many footy clubs," she said.

And now, she knows that the work she has put in for the MCC Football Club, will continue to build on her ongoing love of football and the MCC, in a way that celebrates women unapologetically.

"This is not just a tack on to the men's clubs. Right now, it's a secure place for women to come and play first."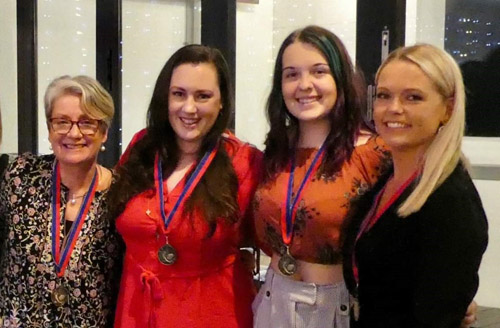 Annabel with award winners from last season's presentation night.
Anna Pavlou is a student journalist.