A small ripple of pity swept across my corner of the MCC Balcony when Dean Elgar was given out for a duck, caught behind on referral to the third umpire in South Africa's second innings this week.
"Poor bloke. He must have been completely cooked having to captain the side throughout the heat, then turn up to open the batting." "It's not easy being captain and opener in this side."
Well, maybe.
True, Elgar had to face the likes of Mitchell Starc and Patrick Cummins but he didn't carry anything like the responsibilities I did when captain and opening batter of the Williamstown Colts Fifths some years ago.
For a start, I don't imagine Elgar had to worry if all his players would turn up on match day and if they did would they be in a fit and proper condition to play? And did he then have to plead with each and every one for match fees so the umpire could be paid?
As he strapped on his pads to start the innings, did the skipper have to organise a player to be square leg umpire and another to do the scoring? (Hard to do when most weren't sure of the laws, and none knew how a scorebook worked.) Did Elgar have players arguing with him about the batting order, most complaining that they were listed to come in far too early?
True, Elgar wasn't the homTe captain for this Test, but when playing at home would he have to make sure the cones were placed around the boundary and the stumps provided? Did he have to bring a new ball for the umpires? And did Dean have to organise afternoon tea? Was he making ham sandwiches at home an hour before the game?
When in the field during that long and steaming Tuesday while David Warner carved his bowling attack to all corners, did Elgar ever have to call his fielders out from under the shade of a tree? Did he have to shout at his fine leg for talking on his mobile phone while watching a leg glance pass him by?
And I bet he was able to move his fielders by saying neat things like "move a little finer" or "go to deep extra cover", rather than telling them to "take six steps back and four to your right", or follow up each instruction with "for f***'s sake … "
And, of course, he could rely on his bowlers to keep the ball on the pitch for more than two-over spells.
So no, I don't have much sympathy for the South African captain, although I don't underestimate the size of his job. But remember, he has plenty of help …
(For the record, The Williamstown Colts Fifths won the Western Suburbs Churches and Community Cricket Association Tasman Shield C Grade grand final in 2007-2008. As captain and opening batter, Hugh Jones made 66 and won the player of the match medal. He retired the following season.)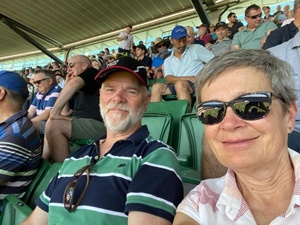 Hugh Jones played very low grade cricket in the Western suburbs until his knees gave out. He has been to most Boxing Day Tests or equivalents in the past 50 years and rates Rodney Hogg's clean bowled dismissal of Geoff Boycott in the 1978-79 series against England as the highlight. A retired journalist, he is President of the Williamstown Literary Festival and writes about bits and pieces from time to time.