The Melbourne Cricket Club (MCC) Foundation is thrilled to announce a three-year partnership with Cricket Australia (CA) that will see the Club support the National Indigenous Cricket Championships (NICC) and CA's Indigenous Cricket pathways.
The NICC brings the best Aboriginal and Torres Strait Islander cricket teams from each state to compete for national titles in the T20 format.
After a two year hiatus due to the impact of COVID-19, the tournament will return in 2023, taking place in Alice Springs from February 22 to 28.
In addition to being the official inclusion partner of the NICC through to 2025, the MCC Foundation will also host an annual training camp for the best players from both the men's and women's competition – bringing them to the MCG to experience playing on cricket's premier stage.
Speaking this morning at the official partnership launch held at the MCG, MCC Foundation chair Sally Macindoe said the Club was delighted to help support further pathways and opportunities for the country's many talented Indigenous players.
"The MCC Foundation is extremely proud to have joined forces with Cricket Australia to help deliver the National Indigenous Cricket Championships," she said.
"The MCC is delighted to support these championships as it fosters diverse and broader sporting pathways at both community and elite level – the NICC is a true celebration of cricket, culture and connection.
"This partnership will not only provide greater opportunities in a sporting sense for some of Australia's most promising and passionate men's and women's cricketers from Aboriginal and Torres Strait Islander background, but will also help strengthen relationships between these athletes.
"When you look at it today, the significance of the iconic MCG and the events and achievements - from the first ever Test cricket match, to the Olympic Games, AFL Grand Finals and World Cup Finals – that have taken place here are not lost on anyone.
"This was a site for corroboree for the Wurundjeri Woi-wurrung people of the Kulin Nation, a place for ceremonies and celebrations for time immemorial, and we are honoured to continue this legacy.
"We look forward to hosting these emerging players and seeing their talents and skills on full display on the hallowed MCG turf.
"Cricket Australia share the MCC Foundation's core value of creating a more inclusive environment for everyone and we look forward to seeing this partnership grow."
James Allsopp, Cricket Australia's Executive General Manager Community Cricket and Capability, said the partnership was another step in the important journey toward making cricket a Sport for All.
"We're excited the MCC Foundation has chosen to join us in supporting the National Indigenous Cricket Championships and by providing first class training and playing facilities for Indigenous players," he said.
"We want to give talented Indigenous cricketers the best possible opportunity to fulfil their potential and the experiences made available by the MCC Foundation will be amazing."
Australian pace bowler Scott Boland, whose name sits on the MCG honour boards after a standout performance in the 2021 Boxing Day Test, was in attendance to show his support and spoke of the importance of being a role model for younger cricketers.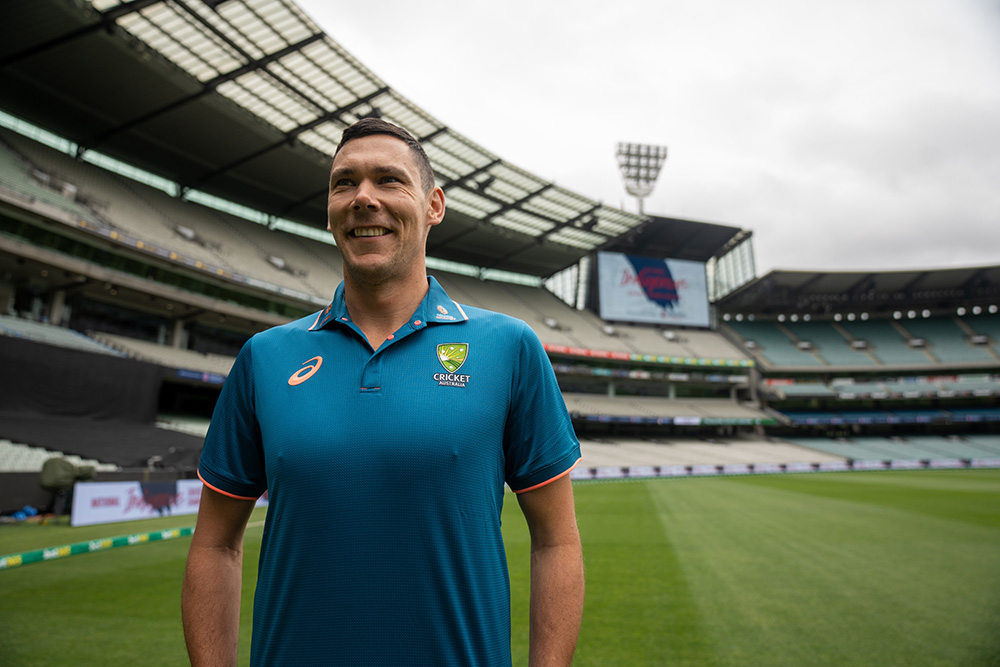 "Ashleigh Gardner always says you can't be what you can't see so when you have indigenous players at that top level it gives younger ones something to aspire to," he said.
"It's pretty humbling to be in this position where I've got young kids who look up to me and hopefully I can inspire the next generation to want to play test cricket."
The MCC Foundation is a not for profit entity which exists to further the purposes of the Melbourne Cricket Club, namely, to sponsor, encourage and promote the playing of sports.